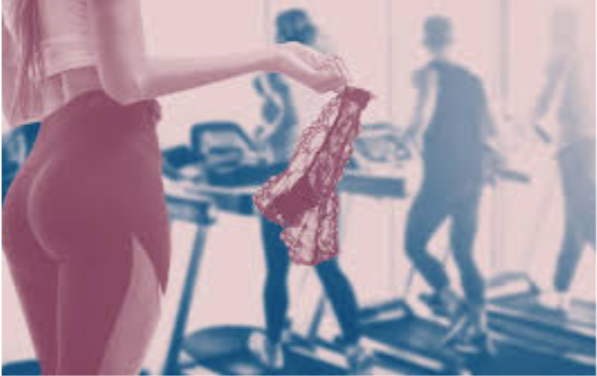 Image Credit: Health Magazine 
One might think that I should keep this glow post to myself, and yet here I go, sharing away...
Right, so anyway...let's just get to it and ask, do you wear undies with your workout clothes? Or, like me, do you dare to go bare? Totally keeping it super real, but "yes," I do not wear underwear with my workout leggings, and on the rare occasion that I do it's typically because I know I'm only teaching and not actually moving a lot. If I am wearing more of a sweat-pant/jogger style pant, then I will wear underwear, and definitely in my "normal" street clothes, I do wear undies. Being in the fitness industry, I have grown accustomed to seeing all kinds of athletic apparel and I personally have figured out what works best for me which is a workout legging that allows me to be naked as a jaybird underneath.
Honestly, it's all I have ever known. From my dance days, it's mostly true that no one wears underwear with their tights and leotards, especially for a performance. Yeah, it's cute to see a little tiny tot with cartoon character panties hanging out - but that don't fly past 5 years old. As a matter of fact, and this is still true to this day, most dance companies/studios require a certain attire for class, and typically written next to pink tights and black leotard, is "no underwear or visible panty lines" whatsoever. Cheerleading was the same when it came to my uniform. The briefs, spankies, bloomers, were to be worn alone - 'cause the last thing a cheerleader needed to worry and fuss with while either being tossed in the air or taking a tumble pass is her underwear hanging out of her briefs.
However, I know that a ton of women are just either not comfortable or haven't found the right kind of pant to let it go. It kills me when I see a woman deep into her workout, only to have to come to a dead stop and dig her undies out of her butt. Seeing this also kinda triggered me in a way and after years of going bare, I did begin to wonder if it was healthy for my body if I did't wear underwear. Having 3 kids will change a girl's ways down there if you know what I mean! Is there a need for more of a barrier? Could not wearing underwear cause infections? I personally did not struggle with that, but I know enough that just because I don't have an obvious problem, doesn't mean I should wait for one to happen either. Prevention is key in all things in life, am I right?
In a previous blog post, I had shared my personal struggles with the infamous sweaty triangle crotch, and wearing panties did not slow that situation from occurring one bit - I have tried many of times and if anything, it was worse. Too many layers and too much heat gets trapped. Nonetheless, I want to make sure I'm doing what's best for my body and things can get emotional down there.
I decided it best to take my questions beyond google and straight to my OBGYN, and apparently, this is a very common question and concern for a lot of women. Overall, my doctor shared that there is nothing wrong or harmful to you or your lady bits if you choose to not wear underwear with workout leggings. It's more of a personal preference and each individual's body is different and reacts differently. There are, however some things to keep in mind and consider, and by both my doctors recommendations and general research, I found the best solution for me. 
In general, whether you go bare or not, there are some things to consider when shopping for workout leggings. Here are a few things to keep in mind...
You want to consider the fabric/material of the pant. Now, if you're just going for fashion over function to get that insta pic, then hit up Forever 21 all day. But if you're truly going to be working out, then you should put a little more effort into your search. It is true, and rightfully so, that more high-end companies will use higher grade materials when creating their fabrics that encourage moisture wicking properties as well as anti-bacterial agents. For example, Lululemon is known to use fabric with silver woven into it as silver is a natural anti-bacterial agent. Bamboo pulp is also another natural material that can often be found blended with fabrics such as spandex or lycra because it helps absorb and wick away moisture. 
Another consideration to have when shopping for workout leggings is the thickness of the pant and this is in addition to the obvious reason that it's not "see through." So, while you're trying them on in that god awful dressing room lighting, go ahead and test out the 'bend and snap' to assure that you can't see your bits. But, the other reason you want thickness is because you want to make sure that whatever you come in contact with won't come through the pant. Envision this...you're at the gym for your workout. You sit down on the rowing machine...ever wondered whose crotch was there before yours and if they followed the rules of cleaning before and after their workout? You following me here? You're gonna want some distance between your business and the person's who was before you. I don't care how fancy the gym and how expensive the membership - people are gross. Annnnddd... bacterial transfer can happen even if you are wearing underwear. If the pant is thin, bacteria is coming. Unless it's good quality, then there's more of a prevention. 
A more obvious solution when trying to keep the crotch drama on the DL with your lady bits is to simply change out of your sweaty workout clothes sooner rather than later. As women, we tend to cram in as much as we possibly can in the hours that we're awake and running 500 errands after a major sweat sesh is not really encouraged, but we do it. Whether you dare to go bare or not, that heat and dampness can be a straight up breeding ground for bacteria and I'm sure you know exactly what I'm talking about. Also, ever thought about the heated seat feature in your car? Mmm...mmmm. You're just asking for an infection!
One thing that my doctor flat out did say was, "Do not wear thongs while working out!" He's against thongs all together and says to "avoid wearing them at all cost." And to be honest, my Sisqo "Thong Song" days are well behind me. I'm more into keeping my crotch intact than being cute and showing off my whale tail. I also do Pilates and rebounder fitness, so the thought of either doing some Russian splits on the equipment or bouncing around on a trampoline while wearing a string up my ass  just makes me gag a little. Yuck. And in case you need reason 500 as to why you shouldn't wear a thong during a workout is this: think about the anatomy of the female body...that thong has been places where the sun doesn't shine. Add in some squats, maybe cardio, mixed with sweat, that string thing has moved all around. That can't be good and you're just asking for a yeast infection or worse. Possibly e coli up in your lady business. That's a no-go in my book and no body wants to deal with that hot mess express. So don't do it. Like...ever! 
Here's the conclusion - it's totally fine and sanitary to go bare in your workout clothes. For me, it's the most comfortable with less on-the-fly adjustments and such. Just keep in mind the type of workout pants you're wearing and if the fabric and material would support your bare[ness]. I personally can't do my full-on workouts while wearing panties. I end up having to fidget too often and it becomes quite a distraction. But, I do invest in good workout pants that have the right thickness, sweat absorption, and help prevent bacterial growth. I don't mind spending a pretty penny on more expensive workout leggings for those reasons and I truly consider it an investment in my health. 
Being a fit pro, I have come to find some main staples for workout pants that are tried and true. Of course Lululemon is top because they did it first and do it best. I love their ever popular Wunder Under or Align leggings. The Align legging is more of a thinner pant, but this is where higher grade material and technology is the point of difference between other brands. They are truly the best! I also like Athleta's Salutation legging as well. They fit and feel similar to Lulu's Align. Another brand that is honestly what I own the most of is Fabletics' Power Hold, high-waisted leggings. The price point is damn great, and they legit are a great quality and offer the features that I want and need to do both my workouts and my job without worry about my underwear getting in the way. I have not had any issues doing what I do - bare bum, while wearing any of these leggings. Give them a go!
As for wearing the undies or not, do you! If you are truly finding yourself constantly messing with your pants or maybe worse, you don't even notice that you're doing it cause it's second nature, then dare to go bare. Obviously, if you could care less about digging for gold, then what do I know? I support you too, henny. I may call you out while in class if you're constantly going after yourself, but I'll still love you. Just let go of the thongs tho. Like...those bishes need to be burned. 
xoxo,
There She Glows