Holy sheet mask!!! They are EVERYWHERE and by everywhere, I'm not just talking about on the shelves in the store. I mean people are literally wearing them out in public, running errands - there's no shame in one's beauty game. And based on the increase of variety in the beauty market along with all of the hilarious pics that are posted on Insta, the sheet mask craze is here to stay. The use of the fun, fad sheet mask is now a weekly, and sometimes even daily, staple to most beauty and skin care routines. Sheet masks are no longer being considered as just a fun, once in a while thing to do at sleepovers - they are now competing more in the treatment serum department of skincare.
People literally slap them on while in transit on flights, at school drop-off, and of course posted all over social media - you just cannot not laugh at someone while they're wearing one. It's freaking hilarious and I am guilty of snapping a many pics of myself whilst wearing one of these things. Just the sight of someone wearing one can have you grimace over the similar appearance to the the horrific scenes from HBO's Chernobyl.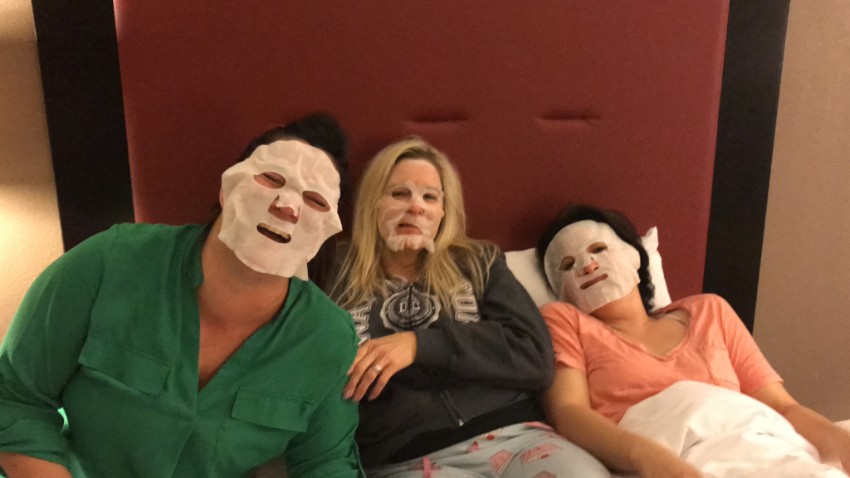 See what I mean...Quite the shock factor for sure.
These saturated fabric material masks can carry quite the nutrient cocktail that gives an instant delivery of radiant skin.  Whether they're used for treatment and a part of one's skin care regime, or used as a prep for a flawless makeup application, the beauty industry is booming with them. From the plain white to animal print, they're everywhere and for everyone, no matter the age.
Okay...So what's a sheet mask?
Whether you ask Alexa or Google, the answer is the same and pretty simple. Originating in Japan and South Korea, the  sheet mask is a face shaped mask (resemblance of the infamous Jason mask or Clark Griswald from Christmas Vacation) made of different materials that is soaked in typically a nutrient packed solution, comparable to a serum. When I say soaked, most often when you pull it out of the packaging, it's dripping with liquid and is quite cold. Personally, it gives me chills throughout my whole body and I always take in a quick breath bracing myself for the hated cold sensation. The sheet can be made of different types of materials - papers, cotton fibers, or gel types. 
How do they work?
Because there is literally a sheet made of different materials that is saturated with nutritional ingredients and laid on top of the face, it provides a physical barrier and prevents quick evaporation of the functioning skin ingredients. This allows the ingredients to penetrate deep into the skin. Because of this, the sheet mask can possibly outperform a more traditional serum and leaves the skin feeling plump and hydrated.
What's in them?
So this is where the the masks vary. Depending on the skin concern and cost, you will find different ingredients. But much like the body, the #1 ingredient that will most likely be in ALL masks is water. Don't be bummed or think that having H2o as the #1 ingredient is a rip off, cause it's not. Water is a carrier of complimentary ingredients and is normally the first thing in most skincare products. Moreover, water in the formula helps with the delivery to skin and can help stronger ingredients be more palatable to the skin. 
After water, the next list of ingredients can be any kind of botanical extracts, humectants, peptides, or hyaluronic acid. Again, the list of ingredients that follows after water will simply depend on what kind of mask it is. So, if you're just looking for some hydration to the skin, look for masks that contain hyaluronic acid. If you want your skin brighter, look for masks that contain botanical ingredients such as Vitamin C.
Do they really work?
Although there are currently no known clinical testing or studies that have been completed to show results, most experts would agree that sheet masks can give and improve the skin's appearance. Look for proven ingredients to get the most from them. After the recommended time of wearing the mask 10-12 minutes, the skin is left notably more hydrated, brighter, and  plump. 
What's the cost?
Just like anything the cost is a wide range from $1-$25 per individual mask. By design, they are all intended to be hydrating and soothing to the skin. But, depending on the material of the mask it's self, ingredients and quality of ingredients will determine the cost. So whether you want to have something fun to do at a sleepover or to actually treat a skin concern, the range of types and cost is wide. Which gives the consumer plenty of options at several different price points. 
Prior to my days of being a Pilates and Fitness instructor, I worked for one of the leading cosmetic companies in North America at an executive level for nearly 15 years. So the beauty game is embedded in me. I love all things skincare and makeup, especially from a more educational and treatment standpoint. Not necessarily the influencer game, although the influencers are the ones who get the word out on what the next beauty and skincare trends will be. Bottom line, I loves these betches! They really can create a game changer in skin. I have tried many brands that range in price and have always found some kind of improvement to my skin. Whether it was just an instant result or one that lasted to the next day, sheet masks are a staple my skin care routine.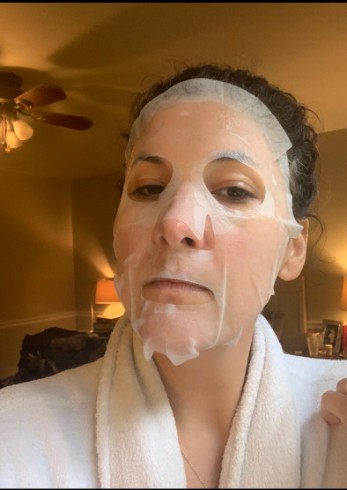 It's called Self-Care Sunday. Don't judge.
Give them a go! If not to use for the treatment benefits for your skin, then use them for a hilarious and funny moment that will be remembered by a saved picture on your phone. Or maybe delete it, cause it ain't cute. Here are some of my favorite brands, both prestige and mass market, they're all good to me!
xoxo,
There She Glows